Upcoming
Area Games
& Events
2017 Unit
Events Flyer
Click here for flyer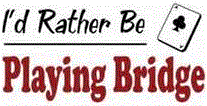 Fort Worth
THIS WEEK (TUESDAY THROUGH SATURDAY) IS A VERY SPECIAL WEEK AT THE FORT WORTH BRIDGE STUDIO!
EVERY DAYTIME GAME IS A NAP QUALIFYING GAME! THAT MEANS (BESIDES COSTING $1.00 EXTRA TO PLAY) YOU CAN EARN MANY POINTS – IF YOU JUST SCRATCH, THE POINTS YOU RECEIVE WILL RELIEVE THAT ITCH!!
SO, COME ON DOWN AND PLAY – YOU WONT BE SORRY – FOOD, FRIENDS, AND BRIDGE. CAN IT GET ANY BETTER?

Sep 9, Unit Game - Pairs

Arlington
Denton
PLEASE COME JOIN OUR ANNIVERSARY PARTY
CELEBRATING 10 YEARS OF BRIDGE
WHERE: Denton Bridge Studio 1500 Dallas Dr, Denton, TX 76205
(At the south entrance of the Quality Inn. Southbound on Dallas Dr-turn right into parking lot. Northbound from I-35 exit Dallas Drive. Turn left to cross Dallas Dr to service road- 2nd driveway on right.)

WHEN: Sunday, September 17. Buffet at 12:45; Bridge at 1:30

WHAT TO EXPECT: DBS will provide a buffet of ham, yummy sides and dessert. There will be a 299 game (at director's discretion) and an Open game. This is also a scheduled Unit Game which will award extra points.

FEES: Non-member: $9 Member: $8 Silver Member $5 RSVP by Thursday, September 14 with your name/partner's name; phone #; email and game preference, 299 or Open. Sorry, but we are limited to 25 tables.

CALL: 940-205-7300 EMAIL: dentonbridgestudio@gmail.com