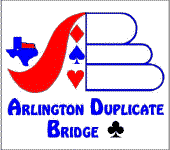 Contents:
Upcoming Events
Game Schedule
Mini-Lessons
Monthly Winners
Ace of Clubs
Mini-McKenney
Tournaments
Memorial
Board Minutes - 6/11
Club Business
Sunshine Corner -6/20




Arlington Duplicate Bridge Club

528 Fielder North Plaza Map
Arlington, Texas 76012
817-795-1188

"Like" us on Facebook: facebook.com/ADBC.bridge

Questions? us.

Saturday, July 4


Hot Diggity Dog

NAP Open
Dogs at Noon
Game at 1pm




News and Special Games Coming Up NEXT . . .
July is a NAPmore..., IFG, and Arlington's Sectional Month


NAP qualifying events are half Black and half

Red

Masterpoints Upgraded




Thursday's $10 for both session special continues.

Weekend, June 27-18


Arlington's NLM sectional for

Silver

masterpoints more...
[click for results]
Saturday, July 4
Special Saturday Afternoon NAP
Lunch (Hot Dogs) noon and Bridge 1pm

Weekend, July 24-26


Arlington Heart Of The Metroplex Sectional
Grapevine Convention Center more...

Sunday, July 26


Unit 183 By-Law change vote
Between Swiss Sessions at the Arlington Sectional more...
Monday, July 29
Monday limited game
Carole Wilkerson - Deanna Palla had over 72% game
The Common Game Howell 1st place 299er winners were our:


Tom Orndorff

-

Jane Clark


If you have less than 300 masterpoints join us Monday @ 11:30 am.

Friday, June 26




Summer Salads

Dinner at 7:00PM,
Garme @ 7:30
"

Arlington Duplicate Bridge Club offers the following series of mini-lessons to help players improve their skills:

Upcoming Events:



ADBC Board 2015-2016
Game Directors
Committees and Appointments
Arlington is an

duplicate bridge club in District 16.