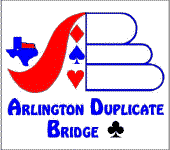 Contents:
Upcoming Events
Game Schedule
Mini-Lessons
Monthly Winners
Unit 183 Ace of Clubs
Unit 183 Mini-McKinney
Tournaments
Board Minutes - 4/8
Club Business
Sunshine Corner - 4/20

Arlington Duplicate Bridge Club

528 Fielder North Plaza Map
Arlington, Texas 76012
817-795-1188

Questions? us.

Party for
JUDI EVANS
Saturday, July 20 @ Noon

Mexican Lunch (bring chips, etc.)
CHARITY Pairs @ 1PM

Coming up NEXT . . .
5/19 Sun 6:30 PM:

* * * Birthday Sunday * * *




Open Stratified Charity Game - Extra Points!


ADBC Members with May birthdays play for $1.00!


5/20 Mon 7:00 PM: 0-1000 Charity Game - Extra Points! &


Open Stratified Charity Game - Extra Points! at 7:30

5/21 Tue 10:30 AM: 0-300 (Avg) Club Championship - Extra Points!

Friday May 31st

PIZZA


Dinner at 7PM,

Club Championship @ 7:30

Arlington Duplicate Bridge Club offers 6 FREE series of mini-lessons to help players improve their skills:

Upcoming Events:



ADBC Board 2013-2014
Game Directors
Committees and Appointments
Arlington is an

duplicate bridge club in District 16.

Arlington Bridge Club distributes club items of interest to its membership and players.

ADBC Email Postings Please advise us of your email address and any changes as soon as possible so that ADBC Special Announcements can be emailed to you...

Your email address is treated with confidentiality and is used strictly for ADBC postings and club directory information. Please send your email address and all other changes such as name, address, or phone to Bill White. Thank you.
Guaranteed Partner Program

The Guaranteed Partner Program is one of the most popular features our Club offers. It provides a convenient method to allow a player without a partner - an out-of-town visitor, a member whose partner cancels just prior to game time, or a member who simply decides he wants to play at the last minute - to come to the Club and have a partner for the game. With the Guaranteed Partner roster prominently posted for the Director's use, it is not necessary to call a Board member or the Guaranteed Partner Coordinator to see if a partner is available; simply call the Club at 817-795-1188 if you wish and the Director can tell you the status for the game.
The Guaranteed Partner Program is now being coordinated by Dorothy Bedford. Please continue to support this program, which is considered to be a key feature of our Club.

Club Closings during Dallas and Ft. Worth Tournaments

The board has voted on the following policy concerning club closings when there is a Fort Worth or Dallas tournament. The Friday Morning game will be held at the club during any Dallas sectional tournament. The club will be closed for all Friday Evening through Sunday games during any Dallas or Fort Worth sectional, and for Friday Morning games during a Fort Worth sectional. The club will be closed for all games during a Dallas or Fort Worth regional tournament.

Board Actions

- The board has reviewed the Zero Tolerance Policy for unacceptable behavior and decided that it promotes an atmosphere which all of us would find more enjoyable. Therefore, the board adopted the policy for its use in our club.
- As of January 1, 2012, Regular game price is $7.00 / Non Life Master games are $6.00 (where upper MP limit is 0-500).
- ADBC players are rewarded for frequent play by using their Frequent Player Card. Obtain a free card from the director. Then bring it every time you play and the director will stamp it during one of the rounds. If you forget to bring it or put it out, tough! If you play 10 times in the calendar month you will receive a free play.

ATTENTION SMOKERS !!!

- Arlington City Ordinance states Smoking is not allowed within 50 feet of any door or window. That would make smoking permissable at or further away than the grassy island in the parking lot.
ARLINGTON DUPLICATE BRIDGE CLUB
Web Site Hit Counter

Webmaster: Bill White - http://d16acbl.org/U176/ABC/adbcmain.htm