Just Click on Your Club's Icon for Game Results.

Your Master Points....Upcoming Temple Tourney...Special Award Announcements Coming Soon....Note Corrections Made on Mini-McKenney Race

See Your Total Master Points as of February 6, 2018 on the link below...Get your Teams or Partnerships Confirmed...Get Your Master Points Averaged & COME PLAY in Our Temple Tournament. All Pair and Team Events are Stratified by Average. These Stratified Events give you a GREAT opportunity to WIN SILVER, because you are competing on a level playing field.

Your Master Points as of February 6, 2018
Feb. 16, 17, & 18 IS UPON US.
WIN SILVER locally at our Sectional Tournament as you support our area bridge and HAVE Loads of FUN with Your Friends.
Detailed Flyer of Temple's Sectional Tourney
Check out the results of the recent Regional Tournament that was held in Houston. Several from our area partiscipated and won GOLD or RED. Our Unit was well represented. See the results below. You will see Jimmy La Fountain, Mary Adams, Jan Hart, Bill and Lenora Parrish, George and Pamela Holmes, Jo McDaniel and more.
Results of the Houston Regional Tourney

<!...Start of Right Side>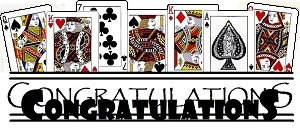 Patricia Santini
James La Fountain, Ethel Corlett, Melody Euler, Puddin Barnes, Asa Waterman, Rita Wiegenstein, G Nell Carpenter, Russel Kliebert, Lavona Carter, Pat Jodoin, Pamela Holmes, Patricia Santini, and Cristina Paul